XR plus
The Winterwarm XR+ heater is a gas-fired unit air heater with innovative technology for highly efficient heating of all types industrial and commercial buildings.
Improved efficiency
Heating and air circulation
Economical energy consumption
Quick warm up
Reliable design

The Winterwarm XR+ heater is the successor of the standard XR-heater, the best sold unit air heater from Winterwarm in the past 15 years. Unique for its patented stainless steal heat exchanger and attractive design. The compact heaters have proven to be a cost effective heating solution for almost every type of industrial or commercial building. Now Winterwarm presents the XR+, a gas fired unit air heater range which fully complies with the ErP 2021 regulations but does not need a condensate drain. 
Improved performance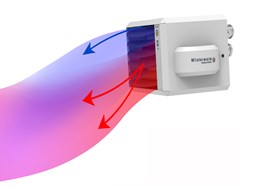 All positive features of the XR-range are preserved (delta T-control, modulating fan, horizontal and vertical air discharge possible, etc.) and new ones are added. The air discharge pattern has been improved with a so-called airlift effect which improves the mixing of the air. The air volume has increased and, therefore, also the distance of the throw. 
The flue terminal connections for the larger types XR 40+, XR 50+ and XR 60+  now also have a diameter of 80mm (previously 100mm) which is a large practical advantage for the installer
Special features
The XR+ types can be suspended in each desired position in order to blow out horizontally, diagonally or vertically downwards. If the airflow is pointed directly downwards to the floor the heater functions as a roof fan, transporting the warm, assembled air underneath the ceiling downwards. This feature prevents heat loss through the roof. The delta T-control is standard in every unit ensuring maximum comfort and even room temperature resulting in lower energy consumption. 
modulating premix burner and fan
delta-T control optimizes gas consumption
variable airflow, also vertical
compact and low weight
no condensate drain necessary
modern design
8 outputs (10 kW-100 kW)
easy to install and maintenance friendly
modbus control options
control up to 8 heaters with 1 thermostat