International specialist in industrial and agricultural heating
Leading manufacturer worldwide
Winterwarm is well-known with regard to her reliable and innovative heating appliances which have found their way all over the world.
More than 85 years' experience
Since the start of the company in 1936 Winterwarm specializes in unit air heating appliances for industrial purposes.
Offering high quality is one of the main focus points of Winterwarm; this concerns not only the producs but also pre- and after sales service.
Winterwarm is a Dutch company: R&D, engineering, production and sales take place from the headoffice in Winterswijk, the Netherlands.
Winterwarm has several international partners who can deliver heaters from stock as well as service parts.
Looking for heating in your company?
Winterwarm has the answer. We are happy to help you with expert advice and can provide heat loss calculations. You can find a lot of information on this website but you are also welcome to contact us by telephone. The Winterwarm product program is extensive. There will certainly be a suitable solution for your situation.
Our motto: keep innovating to develop sustainable heating solutions for our customers.
Wether it concerns heating for a factory, shop, poultry house or green house our employees work with equal passion on the full product range.
Our engineers are continuously improving and extending our product range.
Each day our collegues work with a lot of effort and motivation on the different heating appliances.
Applications
Winterwarm has suitable heaters in its program for very specific environments.
For commercial and industrial areas
Comfort, efficiency and costs are determining factors when choosing a heating system. Each employer wants a comfortable and productive working environment for its employees.
Industrial air heating
For the agricultural sector
Efficient energy consumption, cost-effectiveness and a stable indoor environment are determining factors when choosing a heating system for a poultry house or a greenhouse.
Agri air heating
What is the heating capacity you require?
Obtain a quick and simple indication with our free Quick Scan
Quickscan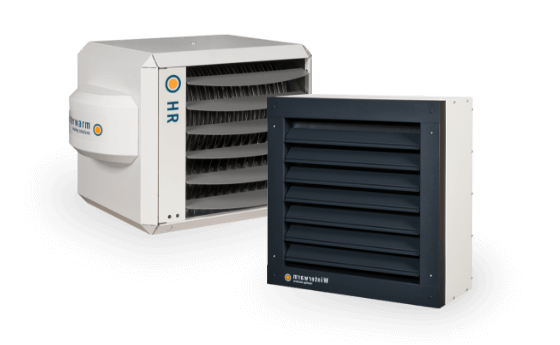 A selection of our projects
At thousands of locations in more than 50 countries, it is comfortably warm because of the installation of our products.
Industrial
New heaters for Parker Hannifin Manufacturing Ltd
Parker Hannifin Manufacturing Ltd had a very old and failing gas fired radiant heating system
View this project
As of the 1st of September the new Price and Product catalogue has come into effect quickly take a look.
Read more
Effective heating solution for poultry houses, pigsties and greenhouses.
Read more